Changing Focus
Posted on November 16th, 2017
We are proud to begin changing focus on what and who we are. We were initially focussed on being the 10 Million Dollar Page - a pixel-for-sale style site. However, we are much more.
We have many really good partners on our pages now. If you are planning a getaway, we have partners for Travel, Flights, Hotel Bookings, and Itinerary. If you have a cat or dog, we have partners for pets and pet care. We have partnered with many unique clothing retailers.
The 10 Million Dollar Page makes shopping online easier. Most of our partners offer sales on their products and services. Shoes, Vitamins, Flowers, Geek Stuff - it is all here.
Check out the Black Friday deals. Get ready for Christmas by shopping online.
---
The 10 Million Dollar Page Animated GIF
Posted on November 9th, 2017
We have been adding partners and contest winners to the 10 Million Dollar Page over the past number of months. And anytime we make changes to the main GRID image, we record a snapshot of the image. So, for kicks, we put together an animated gif showing all the sites which were added between June 1st, 2017 to November 2nd, 2017 in the sequence they were added / deleted. Please note, that this is not a final animation. Since our site is never stagnant, always changing, there will be additional sites added and/or deleted over time.
Enjoy the show.
Note: We scaled down the animation to 1/4 size (ie. 250x250 pixels). Otherwise the animation would be over 30Meg in size. We may post the full size animation to YouTube.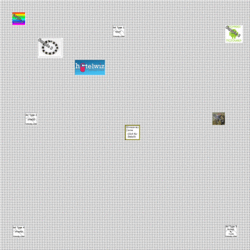 ---